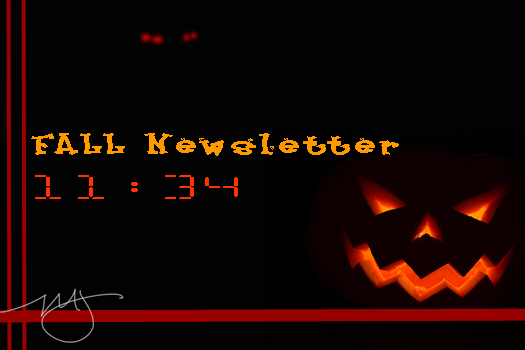 2017 Fall Newsletter
::::: CURRENTLY 11:34
The 2nd book in the 11:34 series has unofficially reached 201 pages, about 60,000 words. I have been writing this book for nearly 12 months now. It is not easy for a Jack of all trades to write a novel in a year, as some authors are prone to do. As exciting as it has been to write this book, it has also presented itself as a tremendous challenge since I am not writing full-time and I need to follow a time line. Thankfully I do not suffer from writer's block. Quite to the contrary, I have so many ideas that I own half a dozen notebooks with ideas scribbled in them. When my devilish muse strikes at 2 in the morning, I take it seriously and write it down. I may not like the fact that ideas tend to come in the middle of the night, and one day I hope to have a chat with my snickering muse about it.
::::: CINEMATIC TRAILER - BOOK 2
With the sequel a mere 100 pages from completion, I am once again working on a cinematic book trailer. It is in the early stages, suffice it to say, but I hope to release it by summer 2018.
::::: FUTURE 11:34
I will continue to peddle the first book of the series. After completion of the 2nd novel, I will tidy it up to prepare it for publication. I hope to have a cinematic trailer ready by this time. A plan is in the works for the 3rd novel of the series.
Happy Halloween to everyone!
Be well, be safe, be blessed.
MJ DelConte